Today is June 6th, which means I'm participating in a blog tour for David Estes' latest book, Water & Storm Country, releasing today!
And here's the author, David Estes(looking very relaxed in a comfy hammock- jealous!):
First off, thanks to Leandra for having me on her awesome blog to answer some water-related questions in honor of the release of my new YA dystopian book, Water & Storm Country!
You're welcome, glad to have to you!
Shrimp or calamari?
Overall, shrimp! There are many exciting and delicious ways to prepare shrimp, as a certain soldier- with a bottom lip so big Lieutenant Dan advised him to '...tuck that in. Gonna get that caught on a tripwire.'- explained to Forrest Gump. Yeah, I'm talking about Bubba. But I also like a tasty salt-n-pepper calamari too, are you sure I can't pick both?
Swimming in the ocean- raft or no raft(or if you prefer, floaties)?
RAFT! I'm answering these questions with my wife, Adele, looking over my shoulder, and she immediately said "Raft!" as she knows all too well that I sink like a stone. If I was ever told to walk the plank, they wouldn't even need to tie an anchor to my feet. (Although the floaty idea, while embarrassing, also sounds pretty good)
Sail boat or speed boat?
I have no clue how to use a sail boat, so I gotta go with speed boat. I like getting places fast so I can sneak in a few chapters of whatever book I happen to be reading.
Which would you rather suffer- a shark bite(by a small baby shark that would leave behind only a neat scar and no missing limbs) or a jellyfish sting?
Although a jellyfish sting would be painful and I'd have to pee on it, the thought of even a small thing with teeth taking a chunk out of me isn't particularly appealing. I'll take the minor sting and the peeing.
Snorkeling or deep sea diving?
I would love, love, love to see the deep ocean, but alas, I can't seem to equalize in my ears. The pressure keeps building and building, sending sharp pain through my ears. So I have to go with snorkeling, although I do like diving down a little bit to get up close and personal with the cute tropical fish.
Lost at sea for only three days or marooned on an island for a month?
Island! Sometimes Adele and I feel like we're marooned on an island since we spend so much time on the beach. We're traveling for two years while I write and much of that time has been spent on the beautiful beaches in Hawaii, Mexico and the Caribbean. We love the ocean!
If you were marooned on an island for a month, and a genie from a conch shell granted you three items you could have, what would they be?
A genie in a conch shell is awesome!! Sorry, just had to say that before I answered. OK, here goes:
1) a boxed set of the Lord of the Rings trilogy- I could read those books again and again without getting bored!
2) a nice, sharp knife- useful for cutting things, like the fish I would try to catch and the fruit I would try to find.
3) a big water-proof tarp- shelter would be key in case there were storms. I'd use sticks, big leaves, and my tarp to build a rock star shelter.
And the most important question of all... Which are cuter- baby dolphins or baby seals?
You saved the toughest question for last! They are both super-duper cute, but if I had to choose just one, I'd have to go with dolphins! They're amazing creatures and so smart!
Wow, that was sooo fun! I've definitely never had interview questions like these, which I love! Thanks again to Leandra for the questions and I hope you enjoyed my answers and enjoy my new book, Water & Storm Country! Happy reading!
Thanks, David! And yes, you can have both shrimp and calamari. ;)
And to coincide with Water & Storm Country, I'm giving away this lovely bookmark, made by Lori Sowers of Hidden Treasury Jewelry. All you have to do to be entered to win is comment, easy peasy!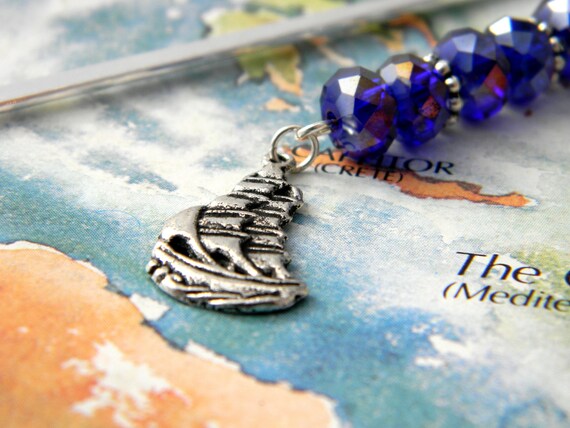 Also, make sure you enter to try and win an ecopy of Water & Storm Country. There'll be two lucky winners from throughout the blog tour, and one of them could be you! =)
http://www.rafflecopter.com/rafl/display/de7c9f62/
Thanks again to David for answering my really important questions*cough * and congrats on your newest release!