First, apologies. Since this is the last week in August, this should be a Sweet Reads post. But, alas, work has gotten in the way of me making delicious things. =( So instead, this will be a post about me playing with toys. Like the one below: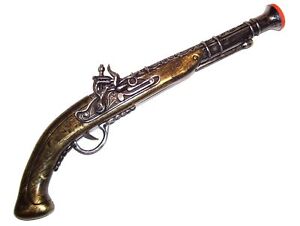 Isn't it cool? I'm sort of infatuated with it. I bought it on a whim for my kidlet(who from playing with his older cousin will aim his finger at you and go 'skhew, skhew') but, uh... I've sorta been aiming it at things myself. Though without the sound effects, I promise! It's just been alot of fun. Why, you ask? Because my main character, Amity, wears a pistol belt and in my mind, shoots something alot like this toy gun. Except, perhaps a little less piratey(that's what the box said they were--Pirate Pistols).
This also takes me back to the Revolutionary reenactment I'd attended this spring. One of the booths was selling swords-- a cutlass type and a broadsword. I wanted one so bad! I thought about buying one and telling my husband it was for research. That's not weird is it? I mean, I'd wait until it was dark so the neighbors couldn't see me charging about the backyard wildly waving a sword around...
Has there been anyone else who likes to do 'research' for your novels? Or keep their inner child alive? =0)