I've a special guest today, author Meradeth Houston. Take it away, Meradeth!
Hi! *waves* I'm incredibly excited to announce the paperback release for COLORS LIKE MEMORIES. The ebook release has been a blast, and it is especially awesome to actually hold the book in my hands. :) Here are three things I think you might find fun about the book:
1.
It's got a pretty sweet cover. :)
And I'm rather partial to the blurb:
Julia has a secret: she killed the guy she loved. It was an accident- sort of. Julia is a Sary, the soul of a child who died before taking her first breath. Without this 'breath of life' she and others like her must help those on the verge of suicide. It's a job Julia used to enjoy, until the accident that claimed her boyfriend's life- an accident she knows was her fault. If living with the guilt weren't enough, she's now assigned to help a girl dealing with the loss of her mother, something Julia's not exactly the best role model for. If she can't figure out a way to help her, Julia's going to lose her position in the Sary, something she swore to her boyfriend would never happen.
2.
There have been some pretty awesome things said about it(if I do say so myself, but I may be a bit biased). See:
-"...I applaud the author for providing a writing that has the power to encourage, inspire, help, heal and simply serve as a platform to stimulate communication for any reader(regardless of age), who is feeling hopeless. If you are looking for an interesting read, this book is well written, interesting and has several positive messages that the reader can take away from the story. I would recommend this book to any reader."
TWC Amazon Review
-"COLORS LIKE MEMORIES was an amazing YA paranormal romance. It will make you soar with wings then drop you off and catch you once you get near the ground."
Michelle Kullman Amazon Review
-"COLORS LIKE MEMORIES is an achingly beautiful tale of love, loss, and new beginnings. Meradeth Houston writes with a clean, clear prose that packs a punch. She carries her characters through the full spectrum of emotions, and the reader is swept along in the journey."
RunningnWriting Amazon Review
3.
You don't have to wait for book #2! THE CHEMISTRY OF FATE, also set in the Sary world, is already available, and you can grab a copy at
Amazon
,
B&N
, or my publisher
MuseItUp Publishing
.
Book #3, SURRENDER THE SKY, will also be released soon. ;)
Those are my three things, and if that's not enough to interest you, well, I've also got a little giveaway running for a book of your choice. Check out the rafflecopter below.
A bit about Meradeth:
>
She's a Northern California girl, but now lives and teaches anthropology in Montana.
> When she's not writing, she's sequencing dead people's DNA. For fun!
> She's been writing since she was 11 years old. It's her hobby, her passion, and she's so happy to get to share her work!
> If she could have a super-power, it would totally be flying. Which is a little strange, because she's terrified of heights.
Find her online:
Website
:

Blog
:

Twitter
:

Facebook
:

Pinterest
:

Goodreads
Also, Meradeth has answered some questions I asked just for fun!
Where is your favorite spot to read?
I tend to be one of those "can read anywhere" kind of people, but when I have a choice, I love my couch. Preferably with a blanket, hot chocolate and rain- those are my trifecta of perfection for a good book. :)
What would do you misspell most often when writing?
Just one? Eep. I am seriously the worst speller on the planet. I break spell-check all the time. Lately, I miss 'separately' all the time- for some reason I want to make the first 'a' an 'e'. Don't know why, but man I do it constantly!

(that's one of mine, too!)
If you were cursed by an evil witch/wizard/genie to read in only one genre the rest of your life(i.e. romance, dystopian, thriller, sci-fi, etc.) what would it be?
Would this mean I wouldn't ever have to read boring textbooks again? I may be looking for silver-linings here. :) I think I'd go with paranormals- I love a good vampire/shifter/angel real-world-with-a-twist book.
What is your fav beverage and/or snack to consume when you're reading/writing?
Hot chocolate. The real stuff. I'm addicted. Totally and utterly so. I'm pretty partial to the slightly spicy, thick hot chocolate that I make from time to time- it rocks!
Pretty bookmarks or straw wrappers to mark your spot in a book?
I'm definitely a straw wrapper kind of person. I think I worry I'll lose a bookmark and that would be sad, so I don't use them. Not that I tend to lose straw wrappers much, but it's a subconscious thing. :) I've used some seriously random stuff to mark my place. TP(clean!) included.

(Lol, so good to know!)
And last but not least, if a good witch/wizard/genie granted only one of your fictional characters to come to life so that you could spend one hour w/them, who would you pick?
Best question ever! And, yeah, super hard to decide. I'd have to go with a character that's only been a side character so far. Jassen, seen briefly in Colors Like Memories and The Chemistry of Fate makes little appearances, but book #3 has him front and center. I'd definitely go for him. (Author crush. Yep, totally guilty!)
And last but not least, I'll be giving away this key chain to one lucky commenter! *psst! b/c Julia has wings- so jealous...*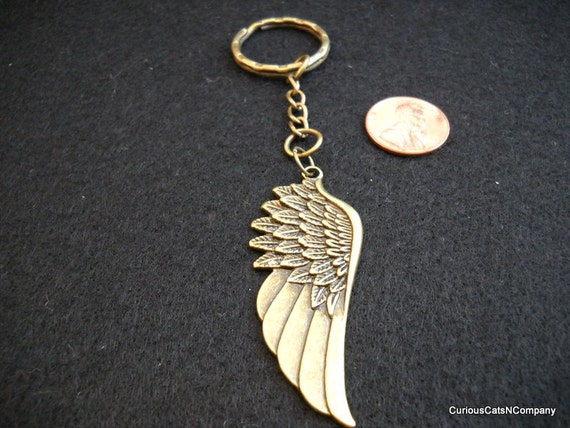 I'll keep the giveaway open from Fri(9/27/13) thru Sat(9/28/13), for those who follow by email and might not get notification of a new post until the following day. And, too, b/c if you're like me, you squeeze in time for social media where you can, meaning not always on the same day something was posted. And don't forget to enter through the Rafflecopter above for a chance to win a FREE book.
So thanks to Meradeth for stopping by and congrats on the paperback release! Have a great weekend everyone!