Before I tell you why this post is named the above, here's some backstory first.
When I was younger I liked drawing, and when the muse was present, I wasn't half bad. But sadly, you don't use it, you lose it, and I haven't touched a pencil in years. My 'drawing' now happens at work on scraps of paper. Embarrassingly my last doodle involved a medieval sort of man running w/a sword held over his head(and a customer saw it). But he was able to tell what it was even upside down, so I guess it wasn't too horrible... I digress. So: history of drawing. Present: Sadly out of practice.
But when I read about a certain contest over on
Sara B. Larson's blog
, I knew I was going to jump at the chance to participate. Design a cover for her upcoming debut, Defy, post it on your blog or submit it on Facebook, and she could pick you to win a signed ARC of Defy!
I immediately commenced to doodle some stuff. Like arms holding swords. Which looked like noodles holding lumpy sticks. Then I thought I'd go w/collage. Except everything I printed off the 'net was too big or too small. And then I thought about silhouettes. Silhouette covers are some of my absolute fav covers. When I see them my heart gets happy.
So here is the cover I designed for Sara B. Larson's Defy, due out Jan. 7th, 2014. Tah-dah!!!
And here is the blurb, lifted off of
Goodreads
:
Alexa Hollen is a fighter. Forced to disguise herself as a boy and serve in the king's army, Alex uses her quick wit and fierce sword-fighting skills to earn a spot on the elite prince's guard. But when a powerful sorcerer sneaks into the palace in the dead of night, even Alex, who is virtually unbeatable, can't prevent him from abducting her, her fellow guard and friend Rylan, and Prince Damian, taking them through the treacherous wilds of the jungle and deep into enemy territory.
The longer Alex is held captive with both Rylan and the prince, the more she realizes that she is not the only one who has been keeping dangerous secrets. And suddenly, after her own secret is revealed, Alex finds herself confronted with two men vying for her heart: the safe and steady Rylan, who has always cared for her, and the dark, intriguing Damian. With hidden foes lurking around every corner, is Alex strong enough to save herself and the kingdom she's sworn to protect?
* * *
On the original template I did, the swords looked much better, but when I transferred it over to the black card stock, it was a little harder to get them as sleek. They came out a bit clunky. *le sigh* I chose to go w/the swords stuck in the ground as it came across as defiant to me. And since much of the book sounds like it takes place in a jungle, I think the tree fits in perfectly as well.
And, finally, here is the real cover: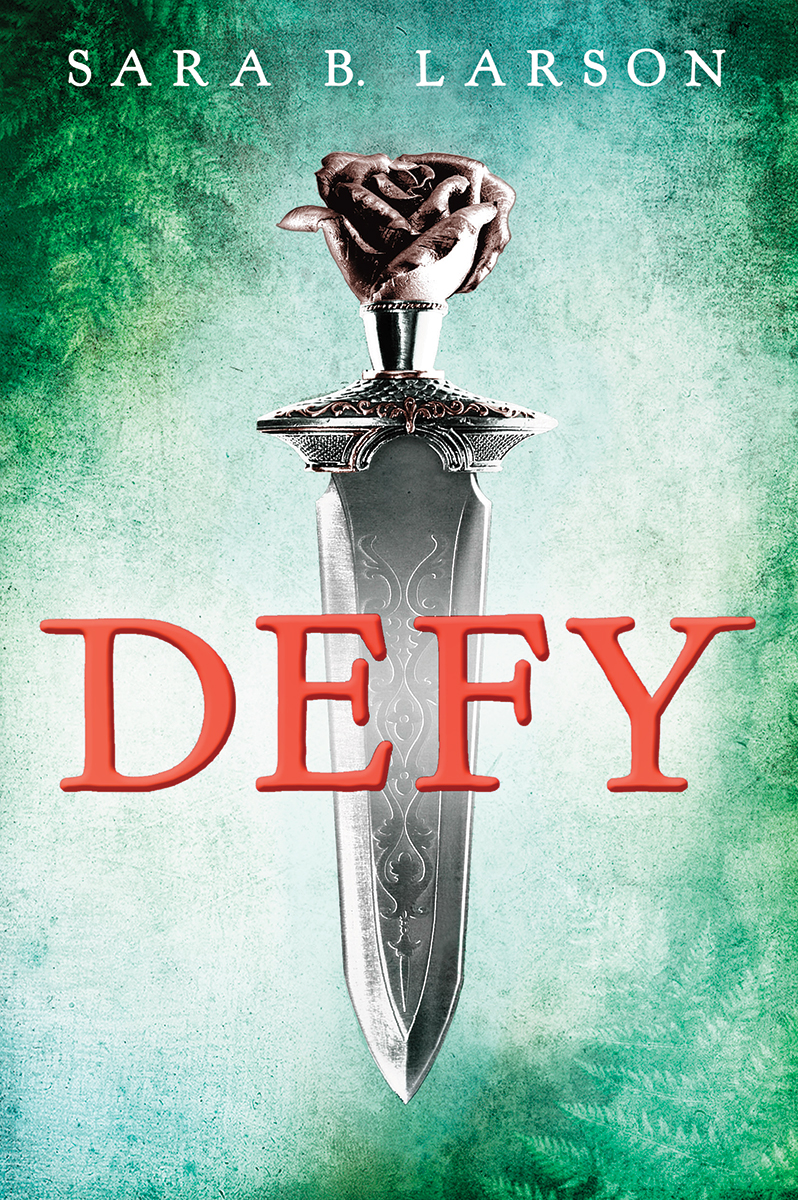 It's beautiful, isn't it? I want to grab that dagger and sta- uh, admire it, while hurting no one! ;) If anyone else wants to get in on the action, Sara's running the contest until Oct. 21st. And if you haven't an artistic bone in your body, she's also running a Rafflecopter giveaway for a second copy of Defy to give out. Yippee! Now everyone wish me luck, please! ;)