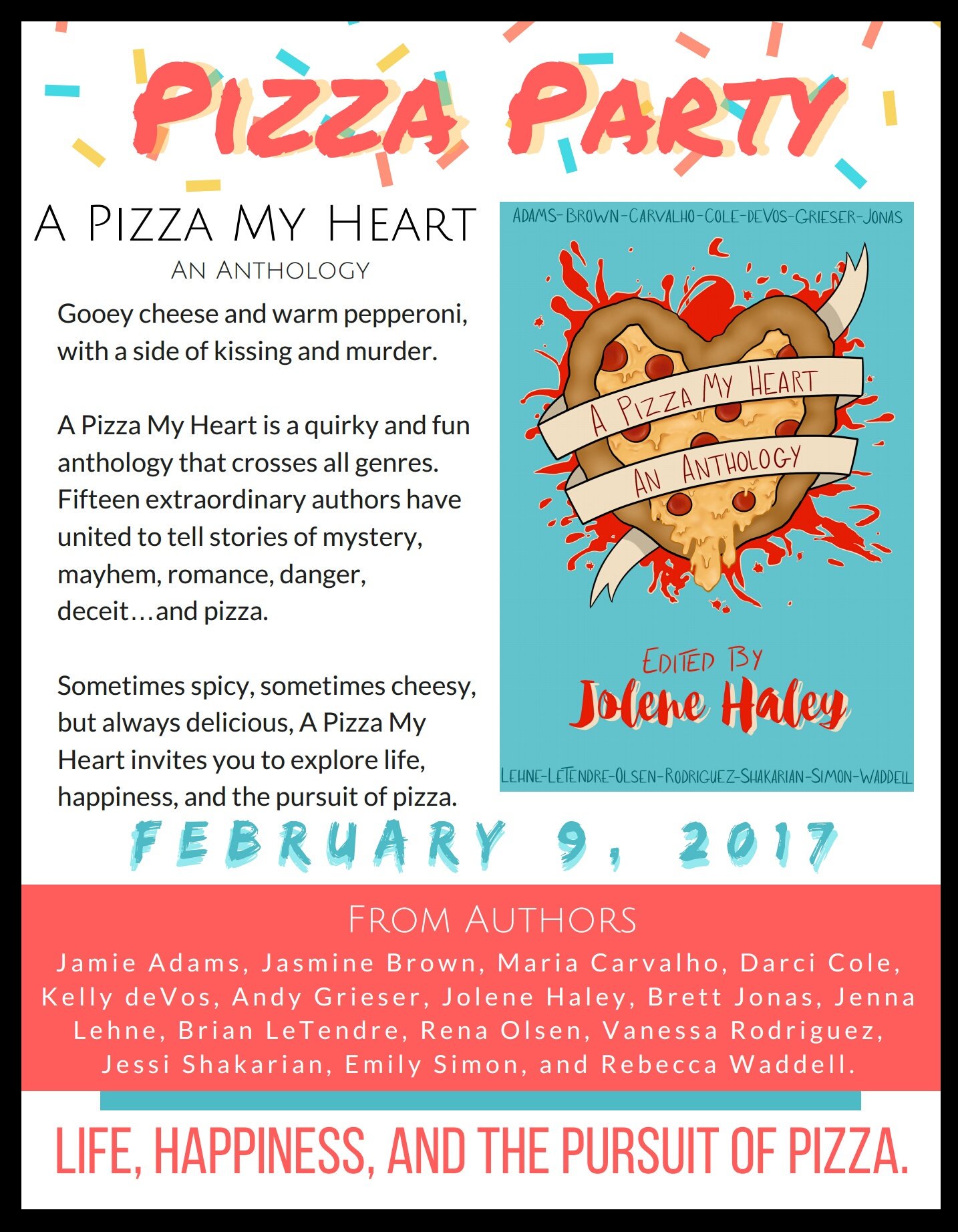 Pizza paired with reading, what could be better?! I was thrilled to discover the A Pizza My Heart anthology, and I'm very excited to have Brett Jonas here today, one of the authors!
_____________________________________________________
1. If there could only be one High Ruler of all Pizza Toppings, what would it be?
Any kind of meat. I'm not picky. Bacon, sausage, pepperoni... it's all good.


2. Favorite place in the world to get a slice?
I'm from the particular region of Indiana that thinks that Papa John's is the only place to get pizza. (Their garlic sauce is at least 50% of that line of reasoning, not going to lie. Haha)


3. What was the inspiration behind your short story, Pizzamergency?
My short story involves a girl who's having a gazillion baby goats born in one day, and she hasn't had a chance to eat anything, and her boyfriend brings pizza. Well, I live on a goat farm, and there was a day last spring where we had twenty-one babies born, and I didn't get to eat anything. Now, I didn't have a cute boyfriend bringing me pizza, but my mom brought us tuna fish sandwiches! So I totally drew from real life and modified a few details to turn it into a short story about pizza. :)


4. As a young author starting your career, what are your goals in the next five years?
I would love to get a book published in the next five years. While there's not much that I can do to guarantee that I'll reach my goal, I can try!


5. You're opening a pizza parlor (congratulations!) What would you name it?
I'd probably call it Giovanna's, after my Italian great-great-grandmother, who came over from Italy when she was only eighteen or nineteen. We'd serve our pizza with her signature sauce!
______________________________________________________
Brett Jonas is a writer, reader, Christian, lover of chocolate, and over-user of smiley faces. After being homeschooled her whole life, she's now taking classes at the local community college and working in her family's business,
Goat Milk Stuff
, with her seven younger siblings. In the rare moments when she's not writing, reading, working, or doing homework, you can find her wasting time on Twitter as
@BookSquirt
, where she loves making friends and using too many exclamation points.
_______________________________________________________
And this anthology is at a great deal right now, everyone. Only .99 cents!! Can't beat a buck for a fun weekend read... =)
Gooey cheese and warm pepperoni, with a side of kissing and murder.
A Pizza My Heart is a quirky and fun anthology that crosses all genres. Fifteen extraordinary authors have united to tell stories of mystery, mayhem, romance, danger, deceit…and pizza.
Sometimes spicy, sometimes cheesy, but always delicious,
A Pizza My Heart
invites you to explore life, happiness, and the pursuit of pizza.